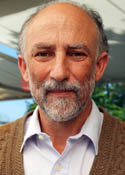 At the end of 1973 and aged 22, he heard about the Non-violence Movement through Lance of the Vasto, the European disciple of Gandhi and founder of the ARK (ARCA) Community, where he also met his future wife Susana Volosin. One year later he became the third conscientious objector in Spain (except the Jehovah's Witnesses). Together with his wife he lived in Argentina where they worked with Quechua indigenous communities at the foothills of the Andes. Being a fugitive from the Military Justice he was trying to force a legal social substitute service with these years of social commitment and this goal was backed up by the Diocese of Majorca. When the Argentinean pro-coup faction within the Army, led by general Videla and others, ravaged the country with tortures, crimes, kidnappings and disappearances, his wife and himself, the winner of the Nobel Prize for Peace Adolfo Pérez Esquivel and many other companions hardly managed to safe their own lives.
Together with other companions he set up the S'Olivar Foundation in 1992 and has chaired it since. During the last few years and feeling moved to act in favour of the tragedy-beaten population of the African Great Lakes, he headed several denunciation activities to bring pressure to bear on the authorities such as the two almost 1.000 km marches and at the beginning of 1997 he went on a 42-days fast at the doors of the Council of Ministers of the EC in Brussels as a last and extreme measure of pressure in order to denounce the everlasting and always forgotten genocide in that region. This action received the support of 19 Nobel Prize winners, various political groups of the European Parliament and its President, dozens of international political figures and hundreds of NGOs. He has written a wide range of opinion articles, given talks, participated in conferences, symposiums and other debate forums. He has been awarded numerous prizes and honours.
Since 2000 the Nobel Peace Adolfo Pérez Esquivel and other important personalities have stepped forward to present the nomination of Juan Carrero for the Nobel Peace Prize, receiving the support of a large number of autonomous and national institutions (such as the Chamber of Deputies and the Island Council of Mallorca), European and Rwandese organizations, bishops and missionary orders, jurists (Baltasar Garzón and Margarita Robles), universities and personalities (such as Vicente Ferrer, Ramón Paniker, José Mª Mendiluce and many others), all of them expressing growing concern about the endless tragic events in the region of the African Great Lakes.