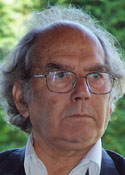 Born in 1931 in Argetina, Adolfo Pérez Esquivel was appointed Professor of Architecture and City Planning at the National University of La Plata where he lectured for 25 years. During that time he also taught at other schools. In 1976 he was dismissed by the Military Régime. His sculptures and architectural works (monuments, murals, etc.) can be seen at the United Nation's Refugee Agency or the Cathedral of Riobamba. In the 60s he joined organizations based on a Christian standpoint and committed himself to support the poorest and most neglected sectors of society. In 1974, in Medellin, he was appointed General Coordinator for a network of Latin American Pacifist groups and movements, clashing with the Military dictatorships, on issues like kidnapping and denouncing the disappearance of an increasing number of people.
For his activities he was arrested in 1975 by the Military Police of Brazil, then again in 1976 together with bishops from North and South America in Riobamba and once more in 1977 in Buenos Aires. Imprisoned without charge and tortured during 14 months he was released but obliged to report to the police during another 14 months. While in jail he was awarded – among other honours – the John XXIII Peace Memorial Prize and in 1980 the Nobel Peace Prize, which he accepted in the name of the South American peoples, and particularly those hit by misfortune, injustice and poverty and all those committing themselves to the oppressed people.
He has been honoured with the Doctor Honoris Causa of several Universities, among which the following stand out: University Saint Joseph, Filadelfia; University of Vilanova, Pensilvania; Christian Bohers College, Memphis; University Mayor de San Andrés,Bolivia; Universidad Siglo XX,Boliv; University Georgetown, Washington; Universidad de San Marco, Lima; Universidad del Estado Paulista, Brasil; Universidad Soka Gakkai, Japan. He is Rector of the Universidad de la Pau, Barcelona and President of the Academic Council of the Université de la Pau de Namur, Belgium. He is also President of the Honorary Council of the Peace and Justice Service, President of the International League for Human Rights and Liberation of Peoples and member of the Permanent Popular Tribunal.